Tagmarshal
Tagmarshal is a golf course intelligence and pace-of-play management solution that turns pace into an asset. The system uses small "tags" clipped onto golf bags or 2Way screen devices installed on carts which transmit geolocation data. Industry-leading algorithms identify risk groups with accurate, objective support to alleviate pace challenges before they arise. Public, private and resort courses using Tagmarshal realize substantial returns on investments through improved on-course experiences achieved with less staff as well as increases in daily rounds. Impactful and easy-to-use data analytics, weather data integration and geo-fencing complete the offering.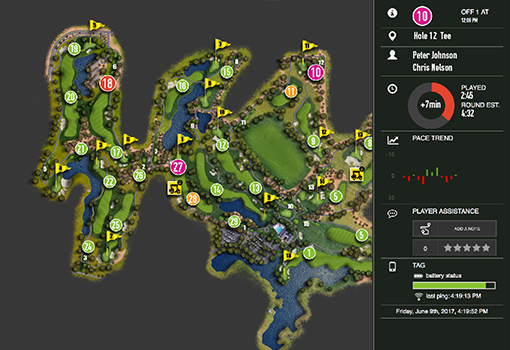 The industry-leading algorithms automatically identify risk groups, empowering on-course staff to provide accurate, objective support to alleviate pace challenges before they arise, reducing average round times and materially improving the player experience. Easy-to-use pace analytics, weather data integration, utilization heatmaps, and geofencing complete the offering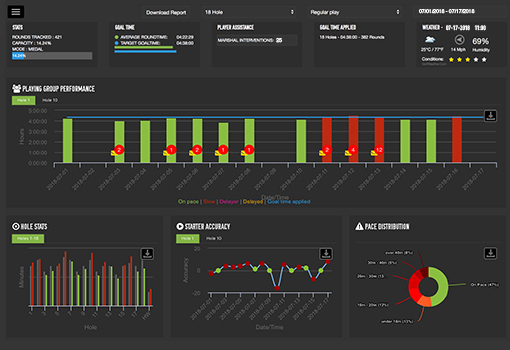 A set of small, no-obtrusive GPS tracking tags, that work with both carts or on walking courses, are either clipped onto a golf bag per group or pre-installed into carts. Installation is a simple process that takes roughly 10 min per cart and optional tablet and screen packages for carts are also available.
As a playing group progresses, its location and pace of play are continuously tracked and measured against various parameters. The cloud-based offering is simple to transition to, simple to configure and maintain, and simple to consume.
Data is analyzed and evaluated, in relation to the rest of the field and by means of defined goals, giving course management invaluable intelligence to make informed decisions on how to optimize on-course flows and proactively assist with non-confrontational support and address member and guest challenges.
Our goal is to improve the experience for our guests while maximizing our revenue potential and Tagmarshal has helped us to do both. We have reduced our labor expense, increased our round capacity, and realized many operational efficiencies.
Tagmarshal helps operators to achieve two prime business objectives – enhance the player experience while maximising revenue potential.
The system provides measurable and quick improvement of the pace of play, on top of a better on-course experience for guests and member players.
Optimizing staff at peak hours, confirming operational efficiencies, and giving the on-course team the data to manage the pace of play in a professional and objective manner are immediate benefits. It is an investment we're making to ensure our members are having a successful golf experience.